Suji
Review Posted on December 18, 2017
Salt is added to many (if not most) sweet dishes because it makes the taste richer and sweeter. You can also taste the extra ingredients such as fruits or nuts etc. better. Salt helps certain molecules of the ingredients release their flavour easier and more. Salt also suppresses bitter taste perception.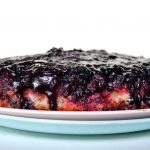 Blueberry Cheesecake
Review Posted on September 15, 2010
This could be because it was not mixed well enough for the whipping cream to become thick enough. Did you use an electric mixer? I would not recommend baking it, perhaps keep it in the fridge a bit longer? If possible, try mixing the cream mixture again.