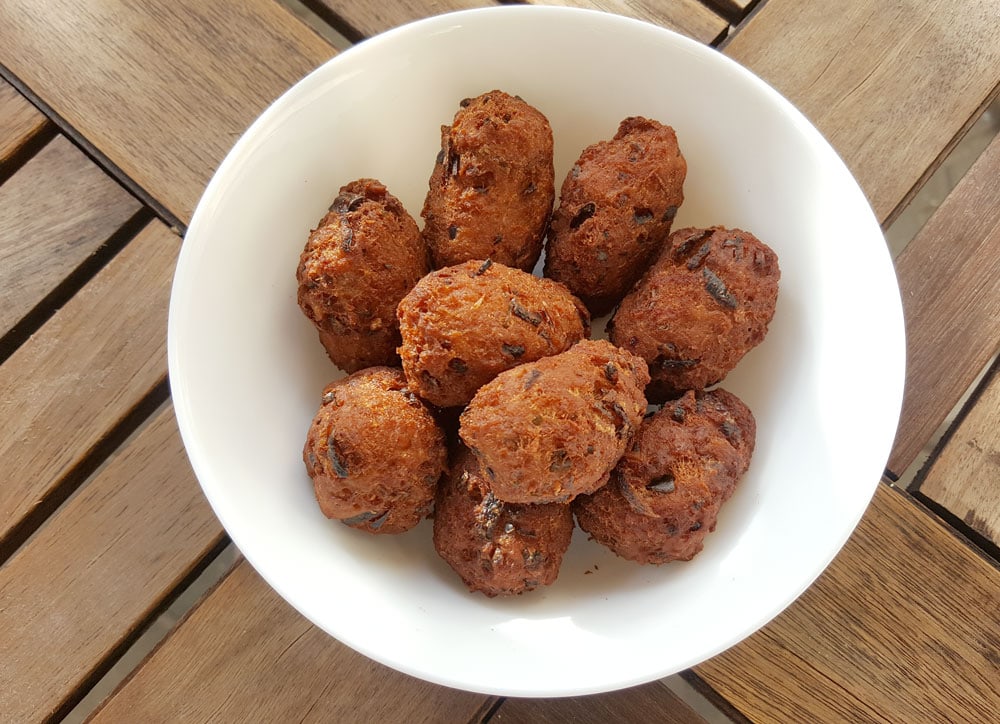 Total Time20 minsPrep Time10 minsCook Time10 mins
Ingredients
3 cups smoked tuna – diced/sliced (substitute: 3 cans Light meat tuna chunks)
1 cup coconut – scraped/grated
1 Scotch Bonnet (githeyo mirus) – finely chopped
⅓ cup curry leaves – finely chopped
1½ cups yellow split-lentils (mugu) – boiled and mashed
1 cup onion – finely sliced
5 cloves garlic – pressed/grated/very finely chopped
Vegetable oil – for frying
Directions
[timer length=20]20 Minutes[/timer]
1
Squash the onions, garlic, ginger, curry leaves, chilies, lemon juice, turmeric powder and salt.
2
Add the lentils and tuna and finally the coconut and mix into a thick paste-like mixture.
4
Gradually add water, while kneading the mixture; process until the mixture forms a big ball. Once done, the mixture is sticky enough to hold its shape when they are squeezed into 'kavaabu' shaped pieces.
5
Take a tablespoon of mix and gently squeeze and shape into small oval pieces.
6
Heat the oil and deep fry (in batches) over a medium flame until brown.