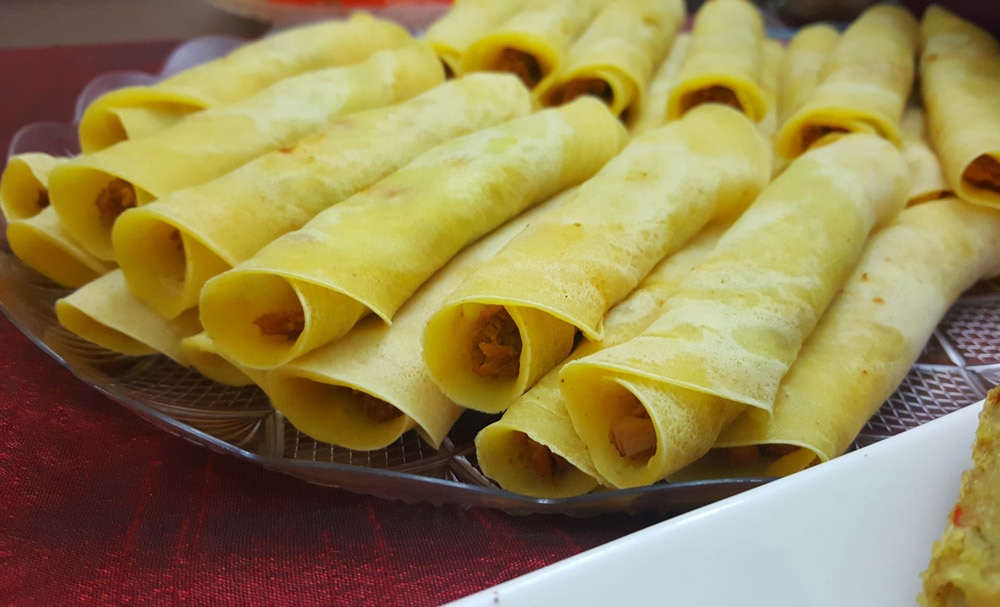 Total Time25 minsPrep Time15 minsCook Time10 mins
Ingredients
Batter
½
tsp
salt or according to taste
Filling
1
cup
smoked tuna (Valhomas) chopped / 1 can tuna
1
tsp
roasted curry powder (Hanaakuri Havaadhu)
¼
tsp
cinnamon cardamom powder
¼
tsp
ginger garlic paste
½
tsp
salt or according to taste
Directions
Riha folhi (Tuna Crepe / Curry Crepe) is a Maldivian style crepe
Batter Preparation
1
Mix salt, turmeric powder with flour. Add water to form a thick batter. Batter well.
2
Heat a frying pan and pour a large tablespoon of batter and spread to form a thin pan cake. Do not toss.
3
When cooked the pancake can be easily removed and transferred to a plate.
Filling Preparation
4
Heat the thick coconut milk in a frying pan.
5
Add onion, pandan leaves, chili, cinnamon and cardamom powder. Sautee until the onions become brown
6
Add curry leaves, curry powder, turmeric powder, tuna and salt. Mix thoroughly.
8
Cover and simmer for 5 minutes or until water evaporates.
9
Remove from heat and discard the pandan leaves and leave to cool.
Riha Folhi Preparation
10
Take a pan cake from the plate and put a tablespoon of tuna mixture on top.
[timer length=25]25 Minutes[/timer]